I have a PG allergy/ what are your PG/VG ratios?
The 7 Wonders and Valley of The Kings line contains between 5% and 20% PG, depending on the flavor and nicotine strength. We use only Kosher VG and the highest quality PG based nicotine for all of our fine liquids.
Do you ship to _____?
Yes. At checkout, we automatically verify the shipping address. If the site accepts your address, it will ship. We have shipped to over 35 different countries and counting. We ship to all APO addresses.
Do any of your products contain diacetyl?
All of our ingredients have been independently tested diacetyl free.
How do you open the waxed cap?
Simply twist the cap open as you would a soda bottle. The wax will easily break with a hairline crack below the cap and can be re-attached without being very noticeable. The wax is made of vegetable resin and is completely safe if accidentally consumed, all though we do not recommend the flavor. The wax is soft, so if you wish to use a dropper top, you may simply screw on a standard dropper without removing the bottle wax.
Why is the color of the liquid different?
Nicotine darkens with age, heat and UV exposure. There will be variances of shade even on bottles produced the same day. A darker color is not indicative of an older or more steeped bottle as it will vary depending on temperature during transport or even which part of the shelf it sits on. Below is a picture of Journey in 3mg in varying shades.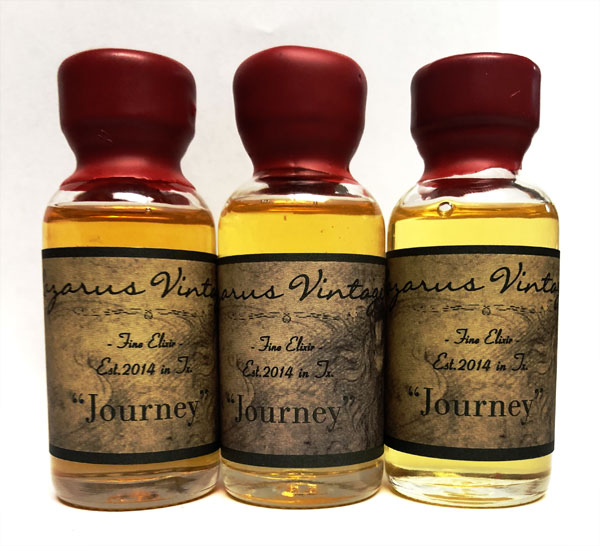 Why do some bottles have Child Proof Droppers and some have waxed caps?

Some regions require a child resistant device to be legally sold. Our droppers have been tested by Bitner Associates as compliant with Consumer Product Safety Commission Protocol and standards for the Poison Prevention Package per Federal Regulations (C.F.R.) Title 16, Part 1700.20 General Certificate of Conformity can be found< here. >
Example: USA and Canada.
Example: China, Hong Kong, Taiwan, Russia.
Is my bottle authentic? Why are the labels different?

Due to ever changing laws and regulations, you will find a variety of labels and add-on labels from Lazarus Vintage by region. The following are approved and authentic for each region.
France
Distribution to France will have the following add-on sticker for compliance with French law.

United Kingdom
Distribution to the UK will have the following add-on sticker on a GHS compliant media. This may also be found in several EU countries as well.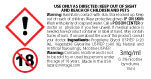 As of 2017, All new Shipments of Lazarus Vintage will come in 10ml unicorn droppers and sealed in the packaging pictured below. This is to comply with Title 3 Article 20 of the 2014/40/EU Directive.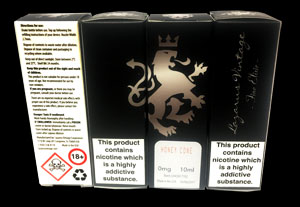 US Domestic Market

Add-on labels are typically found on odd sizes or strengths such as a 1.5mg 120ml bottle
and may be placed over the information area of the satin or vellum label.
Asia
All labels for this region have a U.S. Flag and "New Bold Flavor" Demarcation. This signifies the special formulation found only in this market for a stronger, bolder flavor and is exclusive for China, Hong Kong and Taiwan.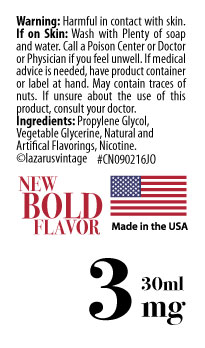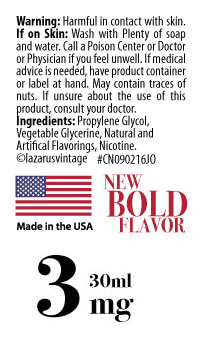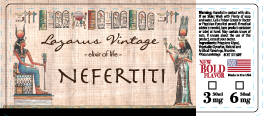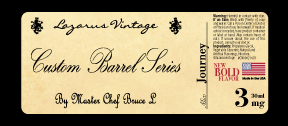 Glass bottles used will come from one of 2 different molds, they can be identified on the bottom.